The zoo has structured its on-site IT infrastructure using Nutanix hyperconverged devices to host some of its in-house applications. A look back at a journey filled with pitfalls that led Beauval ZooPark to adopt hybrid hyperconvergence.
" The smallest grain of sand can come from IT. This phrase alone, uttered by Sylvain Spodar, CIO of the ZooParc de Beauval, could sum up the goal of stability that he set himself five years ago when he arrived. This 85-hectare park exhibits more than 900 species and about 30,000 animals to the 1.6 million visitors it welcomes each year. But it is also a small town in itself, with three hotels, a hotel residence, fast food, shops and a gondola connecting the ends of the park. There are 85 different tradeswhose volume often varies according to seasons and activity peaks.
To put music in this first zoo in France – and the 13th most visited tourist destination in France – Sylvain Spodar got his work started to start a huge modernization project that has been going on for five years now. .
And it all started with a grain of sand: In 2016, the site experienced a double incident, a network failure, and ransomware that acted as a catalyst. Events"which made us realize that IT needed to be structured and stabilized". Especially since, bis repetita, another ransomware should so slightly more problems in 2017 on the hotel server.
It is therefore not a question of starting this huge project without first having stabilized a shaky network, in order to establish a solid infrastructure and work without latency. This will be done thanks to a fiber unit, which is mainly operated by Bouygues Télécom.
In terms of applications, the zoo has a traditional artisanal installation: one physical server per. application, without backup or redundancy. The park has implemented a hybrid system (on site and in the cloud). The systems attached to the ticket office as well as to the shops are in SaaS mode. The hotel system, fast food system and operational tools remain in place for latency reasons. But with the rise of power in the park and the opening of a new hotel in 2018, DSI is entering a new phase. "I did not want to get into virtualization. There is some complexity in setting up VMware; and we were only three in IT», Explains Sylvain Spodar.
A SUCCESSFUL AWS EXPERIENCE
The zoo then set up its hotel software in the AWS cloud, starting with the one from the last opened hotel. "The first few weeks went well. The software started to grow in terms of data", he continues.
The other hotels have joined and have thus highlighted the scale effect with an even larger number of reservations to manage. "The software, which was poorly designed in the base, began to calm down, and latency became more and more important.It must be said that the calendar alone made almost 900 requests: "the screens took a minute or two to load.»
Sylvain Spodar and his team try to work around these latency effects by relying on Workspaces, the AWS workstation virtualization service – "a patch for a few months".
But from there, the costs explode.
FROM CLOUD TO HYPERCOVERGEN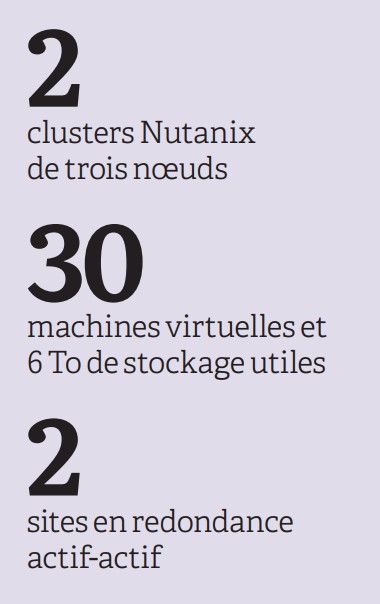 More mature in his thoughts, DSI then began to consider virtualization. In addition to HPE and Dell, Nutanix's hyperconverged tools caught his attention for their ease of use – characterized by hyperconverged devices – and for financial reasons. Actually, "the budget (related to AWS Workspaces, editor's note) is paid by NutanixHe starts. With a limited IT team that is expanding today, "however, it just has to work".
In the Beauval Zoo, Nutanix comes down to two clusters of three nodes, located in two separate rooms in the park. These two sites are superfluous in an active-active state, i.e. that each room backs up the other. "If one room falls, the other can take over.Excavator blows and electrical faults are the biggest risks», Assures Sylvain Spodar.
The zoo is actually very exposed and the environment is not conducive to computers. "We must prepare for all eventualities and limit the duration of crashes.»
On the configuration side, 30 virtual machines and 6 TB of useful storage space are allocated especially to host the hotel system, catering-related applications and operational tools in the park. Everything is backed up with Netapp IQ as well as on the AWS cloud (S3 and Glacier, also via IQ).
The Nutanix cluster will also host the solution for managing the housing stock and monitoring seasonal workers (especially responsible for rents and receipts) who populate the stock at certain times of the year. Data from the 200 mobile terminals scattered around the zoo (from animal and hotel managers) are also traced back to the cluster. Finally, video surveillance also passes through Nutanix.
FOLLOW A HYBRID MODEL
The zoo has not severed all ties with AWS. The latter supports the park's websites as well as most tools related to data analysis, another major project underway in Beauval. "Until then, we had many tools and software, but the data was not crossed", Explains DSI.
For the past two years, zoologists have been trying to catch up in terms of data processing, and a year ago it created a data lake in which data from all software is dumped. Quite rarely for a company of this size, the zoo even hired a computer scientist.
And innovations, IT teams hide them, if only in relation to IoT and 5G, for example, used in particular for animal management. About 20 probes are currently measuring the temperature in various enclosures – traditionally readings are done by hand and on paper. "Latency is a key issue for the zoo, 5G could thus expand the network where fiber is difficult to install», Comments DSI. This could, for example, be used to speed up the uploading of mobile videos of animal keepers, which is currently being carried out in 4G.
THE COMPANY

ACTIVITÉ : Zoo
EFFECTIF : 450 permanents, 1.100 collaborateurs en saison
      CA : CA 65 M€ (2020)