Movie theater
Published March 15, 2022
Here are the films showing at Cinélac de Ploërmel this week:
CONNECTION SESSIONS:
SQUAD:
Ever since she was little, Cathy has dreamed of running her own restaurant. But at the age of forty, nothing went as planned, and she finds herself forced to accept a job as a canteen in a home for young migrants. Her dream still seems to be slipping away … or not?
Sunday, March 20 at 13.50.
TIME OF SECRETS
Customization of the time of secrets (third volume of Childhood memories) by Marcel Pagnol.
Marseille, July 1905. The young Marcel Pagnol has just completed his primary studies. In three months he will be in "high school." Three months … an eternity when you're that age. Because it's holiday time, the right ones, the big ones! A child of the city, this long-awaited return to his dear mountains Aubagne and Allauch, those of "My Father's Glory" and "My Mother's Castle" transport him with happiness. There he rediscovers nature, the free nature and above all his friend Lili, always ready to share new adventures at an age where the time of carelessness gives way to the secrets.
Sunday, March 20 at 16.10.
AMBULANCE
Prohibited for children under 12 years
Will Sharp, a decorated veteran, gets the only untrustworthy person, his foster brother Danny, to find the money to cover his wife's medical bills. The latter, a charismatic long-term criminal, offers him instead of giving him money a shot: the biggest bank robbery in Los Angeles history: $ 32 million. Will, ready to do anything to save his wife, accepts. But as their case takes a spectacularly catastrophic turn, the two brothers have no choice but to hijack an ambulance with a fatally wounded old officer and paramedic Cam Thompson on board. During the infernal chase that follows, Will and Danny will have to escape the over-motivated police forces stationed all over the city, try to keep their hostages alive and avoid killing each other while performing the most spectacular escape the city of Los Angeles has ever had. had. set.
Tuesday, March 22 at 20.40.
NATIONAL EXIT:
THEN WE DANCE
British feature film adaptation Find your feet by Richard Loncraine.
Sandra is determined to take control of her life after discovering her husband's infidelity and seeks refuge with her sister Danie. Opposite each other, they are around their shared passion: dancing. With the nickel-plated feet of choreography Lucien and Roberto, her sister's friends, Sandra finally finds the freedom and touch of madness that her life lacked. A new life begins: because we all have the right to another dance!
OUR WIFE Burned
The feature film by Jean-Jacques Annaud reconstructs hour by hour the incredible reality of the events of April 15, 2019, when the cathedral suffered the most important disaster in its history. And how women and men will put their lives at risk by an incredible and heroic rescue.
THREE TIMES NOTHING
Brindille, Cap and La Flèche live as best they can, day in and day out, in the Bois de Vincennes. But their precarious situation had to change completely the day they win the Lotto. It is still necessary to be able to pick up the money, because without housing, no updated identity card and without a bank account there is no payment!
JUJUTSU KAISEN in VF and VOST
Warning: Scenes, comments, or images may offend viewers
When they were children, Rika Orimoto lost her life in an accident in front of a close friend, Yuta Okkotsu.
"We will make a promise. When we grow up, you and I will get married."
Since then, Rika comes to haunt Yuta, who even wanted her own death after suffering from this curse for years. Until the day when the most powerful of exorcists, Satoru Gojo, welcomed him into the school of exorcism. Yuta meets fellow students Maki Zenin, Toge Inumaki and the Panda and finally finds a new meaning in her life.
EASY SCREENING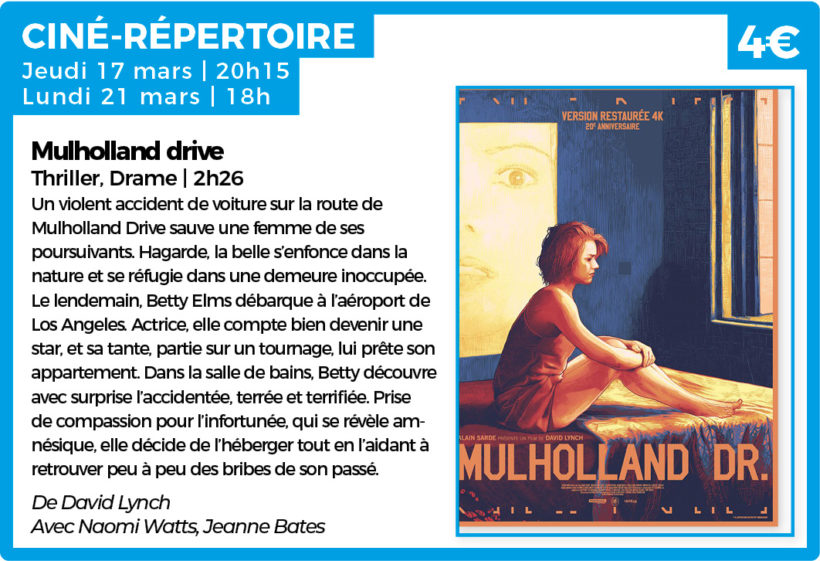 MULHOLLAND DRIVE Film from the repertoire
A violent car accident on Mulholland Drive saves a woman from her pursuers. Haggard, the beauty sinks into nature and takes refuge in an uninhabited house. The next day, Betty Elms arrives at Los Angeles Airport. Actress, she intends to become a star, and her aunt, who has gone on recordings, lends her her apartment. In the bathroom, Betty surprisingly discovers the accident victim, the horror and the horror. Filled with compassion for the unfortunate woman, who turns out to have memory loss, she decides to take her in, while gradually helping her find bits and pieces of her past. Their only clue is in a bag full of money and a mysterious blue key …
Thursday, March 17 at 20.40.
Monday, March 21 at
DOES NOTnew art and essay ENTRY:
NOTHING TO FUCK
BELFAST
THE GULL AND THE CAT
Subtitles for the deaf and hard of hearing:
OUR WIFE Burned
Thursday, March 17 at 16.10.
Tuesday, March 22 at 13.40.
THREE TIMES NOTHING
Friday, March 13 at 13.50.
Monday, March 21 at 18.50.
Movies in audio description for the week
Picto AD: technical support for the blind or visually impaired (requested at check-in):
NURSING HOME
FLAGERMANDEN
GOLIATH
THEN WE DANCE
AMBULANCE
OWN
OUR WIFE Burned
BUILDING PERMIT
THREE TIMES NOTHING
TIME SCHEDULE