Home> Development> Facilities
Protection system for "territorial continuity" created by reformed Didier Robert
Saturday, March 26, 2022, by Manuel Marchal
---
Travel assistance will again be primarily aimed at people who cannot afford a plane ticket, to go to France to see family or low-income students return on holiday to their island. The Réunion region has in fact decided to reform a customer listing measure that Didier Robert used to build popularity, costing society more than € 50 million a year, if deliberately very generous criteria were mainly aimed at those who already have enough money to take on holiday to France without assistance, and which contributed to an increase in the price of airline tickets according to the Court of Auditors.
---
"Territorial continuity" is the competence of the state. In fact, it is Paris that fully finances the aid paid to all passengers traveling between Corsica and France, as well as freight, for a total of almost 180 million euros a year.

During Jacques Chirac's presidency, a fearful envelope of 8 million euros was set aside to travel between Réunion and France, only for people living in Réunion. The management of this envelope had been delegated to the region, which was to present criteria to the recipients, criteria which were then submitted by the state to the EU, which was to give its consent.

Between 2008 and 2009, the criteria were defined by the Réunion region social. Except in exceptional cases such as death, the assistance was reserved for non-taxable households due to their low income. It provided full satisfaction when the government suddenly in 2009 ordered the state to stop funding it. The regional campaign was approaching and the candidate supported by the government was Didier Robert, who opposed Paul Vergès, the outgoing president.
More than 50 million euros a year to fund Didier Robert's popularity
When Didier Robert was president of the region, the state again participated in the financing of aid that had become "territorial continuity", while Didier Robert mobilized funds from the region's budget to greatly expand this system. Very generous criteria made it possible for many wealthy people in particular to benefit from it. An obvious lack of seriousness in the management of these public funds has also been the source of major abuses that have led the courts to take an interest in this system.

"Territorial continuity" then cost the region more than 50 million euros a year. It was clearly an operation aimed at funding Didier Robert's popularity rather than using this public money to build colleges and other essential equipment, but much less "paying" at the election level than a personal help from a few hundred tens of thousands of copies. distributed every year.

Furthermore, the Court has not failed to note that this aid, which actually subsidized the airlines, contributed to an inflation in the price of airline tickets. As they were sure that most passengers traveling to France received this aid, the airlines were strongly tempted to increase the fare by the amount of aid.
Fight against inequalities
After inheriting a catastrophic financial situation after 11 years of "Didier Robert leadership", the new majority has decided to reform this system so that it really helps families who can not afford to travel. It must be remembered that the region has a debt rate of 231% for the year 2021, "a rate that is higher than all Réuniones societies", Wilfried Bertile specified at the plenary session of the Regional Council.

The Permanent Commission of the Region, held on 25 March, voted in favor of the new provisions.

The periodicity will change to one trip every three years to adjust to that for state aid.

The support will be based on income in three installments: 460 euros for the poorest, including 100 euros from the region and 360 euros from the state, 360 euros for those who are less fully supported by the state, and 200 euros for those who are a little more comfortable financially, supported by the Region.

In addition, "A new specific unit for students; which will not be periodic, as was the case previously; will be expanded and expanded during 2022. The principle of this new resource scheme for Reunionese students on the go was presented to regional elected representatives in plenary during the presentation and vote on the initial budget for 2022. Its terms will be presented at a future presentation. Committee ", clarifies a press release from the Réunion region.

It is the reimbursement of social assistance for travel, which is primarily intended to support those going to France and who can not afford a plane ticket. Social assistance for travel is once again becoming a means of combating inequalities.
MM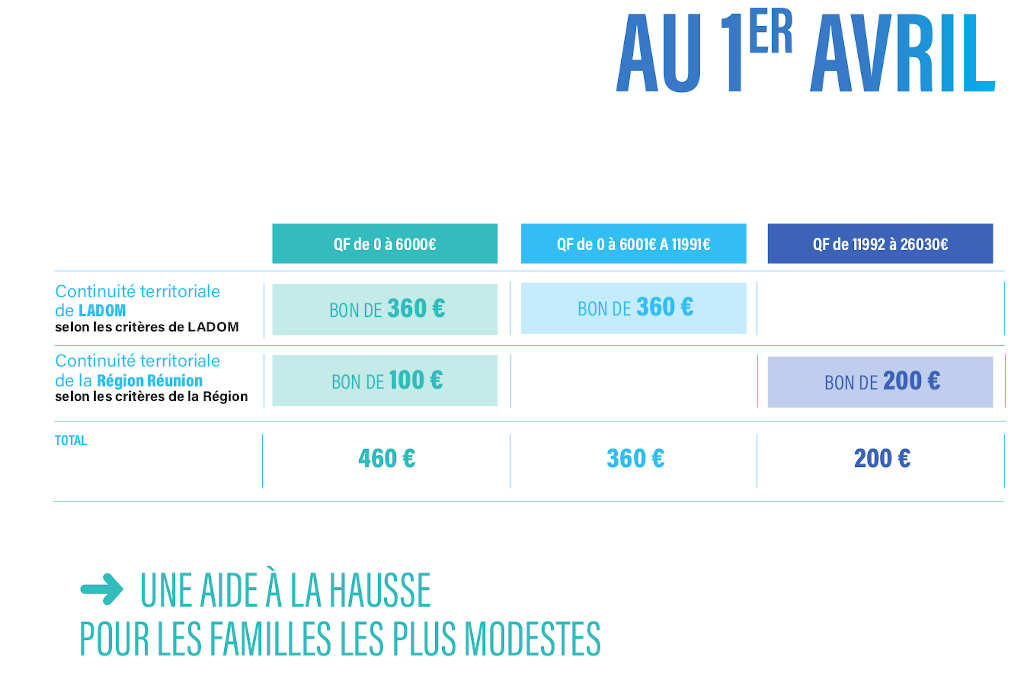 ---
Any message or comment?
report content