The 6th edition of the Born Social survey, which observes the digital behavior of 11-12-year-olds, has just been published by the agency Heaven in collaboration with the association Génération Numérique. Based on the video testimony as well as the written responses of 200 children, this study makes it possible to discover in more detail the digital use of children under 13 years of age.
The smartphone is the preferred digital device for 11-12 year olds
According to the study, the digital equipment that young people prefer to surf the Internet is the phone with 64%, far ahead of the computer (26%) and the touchpad (7%). The 2020 survey revealed that 87% of 12-year-olds already had their own smartphone before they were of age to register on social networks (13 years old).
In terms of parental control, the study reveals that just over half of parents have implemented rules to limit the time their children spend on the Internet. This figure is growing slowly but surely as it rose from 49% to 57% between 2014 and 2020.
Other screen time controls include calls and text messages (48%), video games (58%) and TV (56%).
71% of 12-year-olds use at least one social network without being entitled to it
It is legally forbidden for children under the age of 13, but social networks are nonetheless widely used by the youngest, who often lie about their date of birth in order to register completely unpunished. 71% of respondents admit to having used at least one social network without being entitled to it, and more than half of them state that they created their profile when they were 11 years old. These statistics stabilize from year to year. After the age of 14, 9 out of 10 teenagers say they are present on social networks.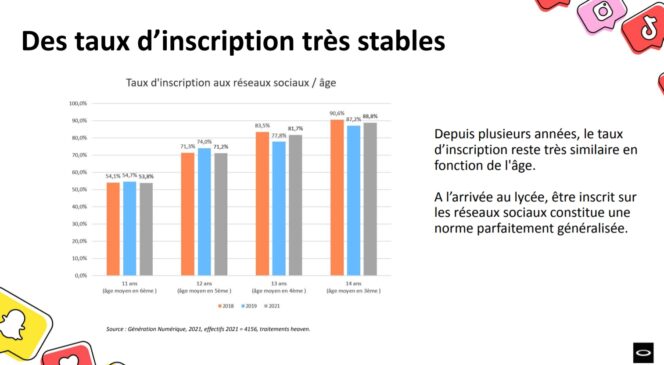 In the ranking of the applications most used by young people, YouTube is still in the lead with almost 51.5% of usage, neck and neck with Snapchat (51%) and far ahead of Instagram (36.5%). Top 10 is completed by TikTok (34.8%), WhatsApp (27.1%), Twitch (9.3%), Facebook / Messenger (5.1%), Twitter (3.5%), Telegram (0, 2%) and finally Yubo (0.1%).
The strongest development relates to Twitch, which doubled its score in less than a year. Conversely, messaging apps like WhatsApp or Messenger are being used less and less by younger people.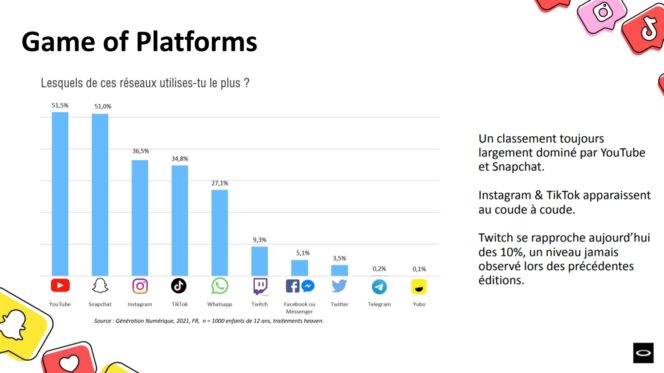 What do young people think about Facebook, Twitter and Snapchat
Facebook
Still just as unpopular with young people, Facebook is often seen as the "social network for parents". New generations often associate this platform with the risk of online harassment and prefer not to sign up for it in favor of other newer networks such as Instagram or TikTok.
Twitter
Although many know it by name, Twitter is not a particularly popular network among younger people, who see it more as a media platform used by older generations. Among the main returns, the social network is seen as a platform that expresses a lot of humor, but also too much violence and aggression.
Snapchat
Snapchat is by far the most popular social network for young people to communicate quickly and "without trouble". The gadget features that the application offers appeal to the youngest: flames, geolocation filters, games, astrological signs … It offers different types of messages (photo, video, text, sound, bitmojis, etc.).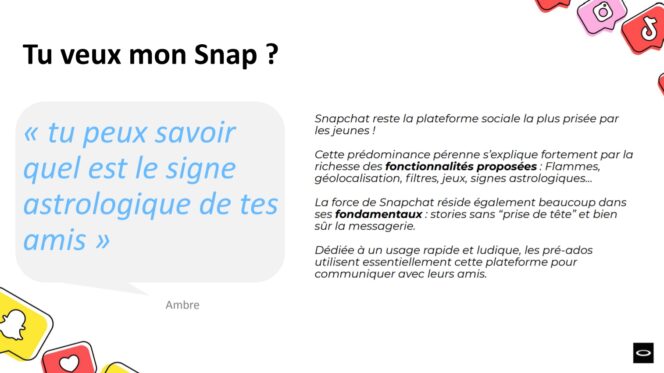 What is the relationship to the youngest brands?
To determine the advertising opportunities for social networks, the agency Heaven and the association Génération Numérique asked the children surveyed to complete the following sentence: "Do you think social networks like Facebook or Snapchat can …". The answers are quite alarming, as only 44.35% of the respondents are aware of the potential for ad targeting. More than half of them still believe they can be geolocated via social networks.
The survey specifies that the best-identified ads are those posted on YouTube (native ads, but also product placements and sponsored videos).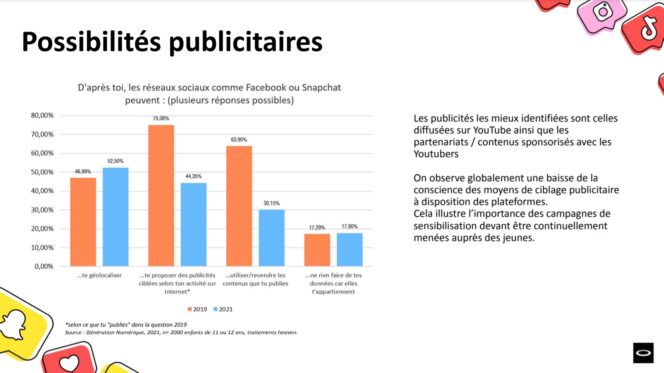 Source: Heaven Agency