When Evangelina and her husband started rescuing stray dogs, their only thought was to help the animals. They wanted to give them the opportunity to have a better life, surround them with love and enjoy the devotion of these faithful companions. But as the number of pets increased, they totally lost control of them, and without realizing it couple from Cordoba had created an uncontrollable and aggressive package.
Fourteen days ago, her husband died, Evangelina was alone, and the yard of her house in the Los Paraísos neighborhood became hostile territory for her, completely dominated by dogs. The problems have increased when her husband's absence was also felt financially, and that the woman's money was no longer enough to feed the 30 animals, all of which were very large.
Hunger made them violent. Terrified, the woman no longer dared to go out to bring them food or do the housework, and the farm became a jungle where the strongest survived. Dogs died, the smell and insects spread, and repeated calls for help from the authorities went unanswered.
"I am in very bad shape, both financially and mentally. I can not stand this anymore. I need them taken away ", the woman pleaded on Wednesday, interviewed by El Doce TV.
She explained that everything changed dramatically when her husband died. Before, the situation was different, he could control them: " Now it's out of my hands. I can not go on like this. They eat each other. When they fight, it's dangerous, I'm afraid they will devour me. I can not even go out to do housework, because otherwise they are all chasing me, and I'm afraid they will fight at that point and attack me. »
"When he was there, it was easier for them to listen to him. It's out of control, I can not control them. The situation can not continue ", she claimed.
Evangelina explained that she had lodged a complaint "but that the police had not taken note of it". Later, when she managed to get to the specialists, they promised to help her, however this never happened: "The environmental police told me they came to pick up the dogs and I'm still waiting for them.".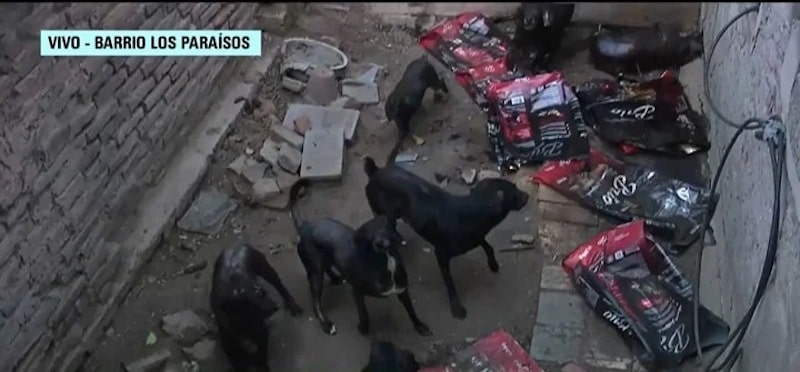 The neighbors have tried to help her, but the task is too complex. "Someone has to come prepared, because it's not easy to get into this", said a neighbor. "The dogs are very aggressive, we do not know what condition they are in and we know that there are rats in this yard too. Someone has to come and take them out so we can help clean up."
The rescue operation to save her and the dogs
When the news reached the media and received national coverage, the help Evangelina needed finally came. Representatives of an animal welfare organization came to the house and took 16 dogs. Then there was a court order that the police can enter the house to complete the rescue work the following day.
The woman was offered to stay overnight in a hotel but preferred to stay on her property and the authorities kept watch there to ensure there were no problems with the dogs. In the morning, the forces of the environmental police arrived in the province of Cordoba to take the rest of the animals.
'A policeman came by every hour and asked me how I was doing. They offered to take me somewhere else, but I did not accept. ", Evangelina told the show "El Show del Lagarto" by El Doce TV. "The municipality told me they would make sure to disinfect the whole house"she added.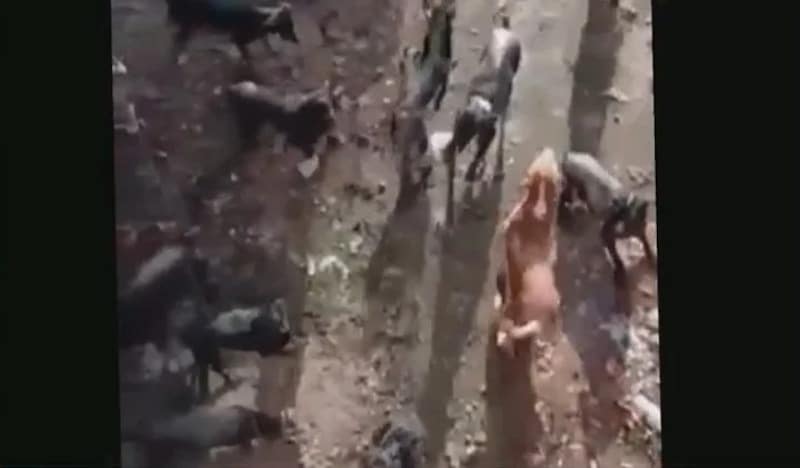 It was all very emotional for her, she had lost her husband only 15 days ago and now she had to get rid of all her pets. " I am affected, very affected ", said Evangelina. For her, it is now the beginning of a new life.
If you love animals, do not forget to share our articles with your friends.
© ️ Tekpolis' editorial staff will report any reproduction of our articles without our consent to Google and Facebook