A new study shows that video games have played a significant role in young people's social lives during periods of incarceration. If prejudice dies hard, attitudes gradually change.
This is a study that may appeal to video game enthusiasts. We have known for at least two years that the video game sector has taken full advantage of the health crisis, but we are now learning that it has helped young people. The study "Perception and practice of video games", conducted by Ifop for HyperX, reveals that video games have played a significant role in young people's social lives during periods of confinement.
The image of video games has evolved significantly in recent years, but clichés or prejudices are dying hard. As it takes up more and more space in families, the view of video games is gradually changing. This is also confirmed by the results of this study, which focuses on habits in adolescents aged 13 to 17 and their parents.
A family activity
Among the main results of the study, we find that 94% of young people play at least occasionally (91% of girls and 97% of boys). It also confirms that video game practices are not reserved for teens; as 81% of parents claim to play regularly. A majority of parents (58%) also play with their teenagers (mainly fathers, who are 67% to do so, against 49% of mothers).
Another interesting point, games would help strengthen the bonds in families. A majority (76%) of parents who play video games with their teens believe they have gotten closer to them, the survey says. It explains clinical psychologist specializing in digital practices, Vanessa Lalo "This study shows that video game space in the family is evolving and that parents are more and more likely to play with their children". The perception of video games is changing positively, although parents are still cautious on certain points (time consumption, health impact, etc.). Nevertheless, thanks to the enthusiasm of the youngest, the majority of parents are encouraged to share video game activities with the family, allows parents to better acquire this hobby and therefore better support their teens with these media.she adds.
A sports practice according to teenagers
The video game confirms that it does not enjoy the same image in parents and young people. 42% of them consider the practice of video games to be a sporting activity. Parents share far from this view (18%).
Games, vector for social bond?
On the other hand, the video game confirms that it is an important player in the social band. A large majority of teenagers (71%) see football as a social activity, almost as much as football (78%). An opinion shared by almost half of parents (42%), the survey says.
An important role during containment
The emergence of video games has been amplified during the various incarcerations. However, the practice of gambling gave rise to "anxiety" with the parents. "65% of parents whose teen is a gamer had them before their teen started this activity, and only 7% of parents encouraged their teen to play more video games during periods of confinement"reads the study.
However, the fact of playing video games seems to have made it possible to support this period better and thus promote the maintenance of the connection with those around him. The survey ensures that 63% of young people believe that video games have allowed them to keep in touch with their friends, and 74% believe that games have allowed them to better cope with periods of confinement. This view is shared by 61% of parents, who mention a positive impact of this activity on their teenager's well-being during this period.
"After successive incarcerations and curfews, we have been able to observe that parents are gradually changing their view of video games, no longer seeing it as a single object of family conflict, but also as a vector for social bonding and well-being. be psychological for their children, in this unusual period of pandemic that has deprived us of our ordinary social, schooling, professional, cultural habits.explains Vanessa Lalo. "Many families have therefore been able to find the time to meet, talk about their common interests, and such video games have naturally imposed themselves as the subject of family discussion and sharing activity. »
Different and varied benefits
"WHO has also supported the #PlayApartTogether movement to help maintain social ties despite the physical distancing imposed by the pandemic"she says. "Popular culture par excellence among young people, video games are a way to meet friends, discuss and belong to a group, essential elements in building young people. And parents have understood that. Most people believe that video games have given their children better opportunity to cope with periods of imprisonment and keep in touch with their friends. "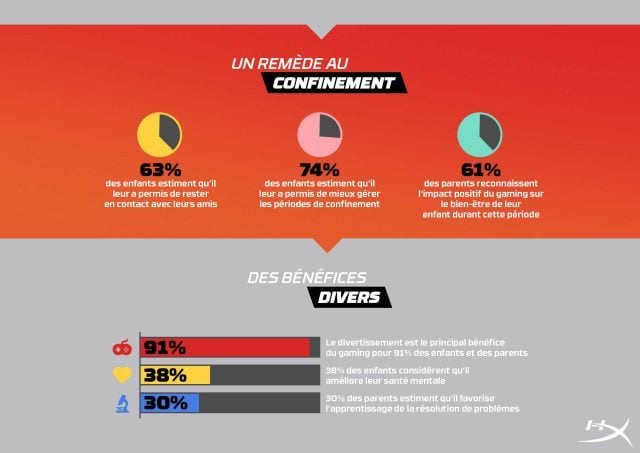 Finally, we learn that entertainment is the biggest benefit of video games for both teens and parents (91% for each group). However, other benefits are emerging, and almost 4 out of 10 teenagers (38%) believe that gambling helps to improve their mental health. They also believe that 39% believe that their practice reduces their stress levels (compared to 18% and 24% of parents, respectively). Finally, a third of parents (30%) and teenagers (31%) say that games promote learning to solve problems.
"Yet it is the first cultural industry in the world that video games still suffer from a negative image among some older parents who have teenagers. This image tends to change with the new generations of parents who are gamblers themselves.notes Vanessa Lalo. "The study's figures also indicate that among gamer parents, and especially men, the perception of video games is clearly different and much more perceived as a sporting, social and beneficial activity for health and mental health."
What should we think about this study?
The results of this study are interesting in many respects. They reaffirm that video games are the core of family life and are taking up more and more space. Nevertheless, it should be noted that this study was conducted by Ifop for HyperX. The latter is nothing more than a brand of gaming peripherals owned by HP, particularly specializing in e-sports.
We therefore decided to look at the results of other studies, such as the study "Cultural Practices" conducted by Credoc at the request of the Ministry of Culture. She confirms that there is actually a before and after confinement for the gaming world; with progression in women or the elderly. Finally, all social categories tend to increase their use of video games.